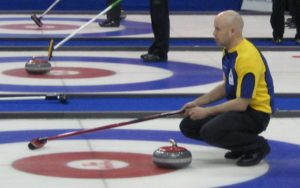 Kevin Koe of Calgary, Alberta won his fourth career Tim Hortons Brier on Sunday. Koe, who was representing Team Alberta, beat another Alberta-based team in the Brier final, as he just got by Team Wildcard, skipped by Brendan Bottcher of Edmonton, Alberta, 4-3.
Koe has now won the Brier in four different provinces. In addition to his 2019 title in Manitoba (Brandon the city), he has won in 2010 in Nova Scotia (Halifax), 2014 in British Columbia (Kamloops) and in 2016 in Ontario (Ottawa).
It was a perfect week for Team Alberta. They went through Pool B action undefeated. Koe's team beat the Northwest Territories 9-4, Ontario 8-3, New Brunswick 12-7, Team Canada (skipped by 2006 Canadian Olympic gold medalist Brad Gushue of Newfoundland) 7-6, British Columbia 9-5, Nunavut 13-2 and Nova Scotia 7-5. In Koe's win over New Brunswick, they had an impressive comeback as they were once down 6-3 after six ends.
Then in the championship round, Alberta beat Team Wildcard 7-6, Manitoba 6-5, Saskatchewan 9-3 and Northern Ontario 7-5. Then in the 1-2 game, Koe beat Northern Ontario again 9-4 to advance directly to the final.
It was also an impressive week for Bottcher, who advanced to his second straight Brier final. Bottcher, who lost last year 6-4 to Team Canada (Gushue) in Regina, Saskatchewan, had a record of six wins and one loss in Pool A play, and then entered the playoffs with a record of eight wins and three losses.
Bottcher qualified for the Brier by beating four-time grand slam champion John Epping of Peterborough, Ontario 8-4 in the wildcard game. He then came away with an impressive comeback victory over Manitoba's Mike McEwen. Bottcher was once down 5-0 after the fourth end, but then came away with a 9-8 win in 11 ends. The Wildcard champions also came away with convincing wins over Quebec, Saskatchewan, British Columbia and Team Canada before beating Northern Ontario 5-4 in the semifinal.
The 2019 Tim Hortons Brier was also a significant event for Yukon, who delivered the biggest upset of the tournament. On the afternoon of March 4, the Yukon team skipped by Jon Solberg, upset Manitoba 7-6.
Koe, third B.J. Neufeld, second Colton Flasch and lead Ben Hebert will represent Canada at the 2019 World Men's Curling Championship in Lethbridge, Alberta. That begins March 30.