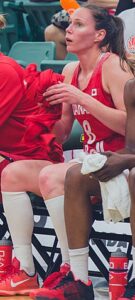 Canadian Olympians Kim Gaucher of Surrey, British Columbia and Mandy Bujold of Cobourg, Ontario will be able to participate at the 2020 Olympic Games in Tokyo in 2021 after all. On Wednesday, the International Olympic Committee announced it will allow breastfeeding mothers to bring their children to the Olympic Games in Tokyo according to Michael Grange of Sportsnet, and the IOC also allowed athletes who missed the qualification period because they were pregnant, an opportunity to still participate in Tokyo according to CBC Sports.The first ruling benefits Gaucher, who is on the Canadian women's basketball team, and the second ruling benefits Bujold, who is a flyweight boxer. Bujold meanwhile took her case to the Court of Arbitration for Sport and won.
Bujold was ranked second in the world before her maternity leave from women's boxing in 2018. She had all intentions of competing in the qualification tournament leading up to the 2020 Olympic Games in Tokyo in 2021, but the event was cancelled because of coronavirus. When the event was cancelled, the IOC announced that they would choose the best athletes from 2018 and 2019. However that would exclude Bujold, who was not competing in women's boxing at the time.
Gaucher meanwhile is on a Canadian women's basketball team looking for their first ever Olympic medal. Canada is in Group A alongside Serbia, South Korea and Spain.