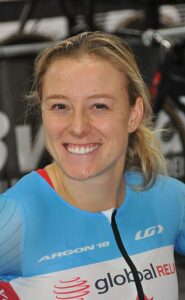 Canadian Olympic gold medalist Kelsey Mitchell of Brandon, Manitoba has won the bronze medal for Canada in the women's sprint at the 2021 World Track Cycling Championships in Roubaix, France on Friday. The championships were initially to be held in Ashgabat, Turkmenistan, but were moved due to issues related to coronavirus according to the British Broadcasting Corporation. 
Mitchell, who won a gold medal in the women's spring track cycling event at the 2020 Olympic Games in Tokyo in 2021, won her first career medal at the World Track Cycling Championships. A late bloomer in the sport of cycling, Mitchell only became a high performance cyclist at the age of 23, after playing women's soccer at the Canadian collegiate and university levels.
In the women's sprint event in France, Mitchell had the third fastest time in qualifying at 10.52 seconds. She was behind Germans Lea Friedrich (10.489 seconds) and Emma Hinze (10.519 seconds). By finishing in the top eight in qualifying, Mitchell moved directly to the second round, where she beat Daria Shmeleva of the Russian Cycling Federation by 3.048 seconds and then Pauline Grabosch of Germany two races to none in a best-out-of-three quarterfinal.
In the semifinals, Mitchell lost two straight races to Hinze, before beating Canadian Olympic bronze medalist Lauriane Genest of Montreal, Quebec in the bronze medal races. Genest won the bronze medal in the women's Keirin at the 2020 Olympic Games in Tokyo in 2021.
In the women's sprint at the World Championships, Hinze won the gold medal and Friedrich won the silver medal. The bronze medal for Mitchell will give her confidence as she prepares for the 2024 Olympic Games in Paris.