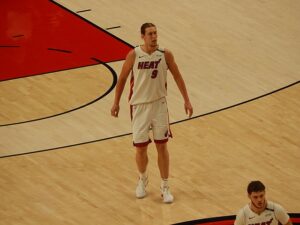 As the 2020 NBA Finals begins on Wednesday, there will be one Canadian participating as Kelly Olynyk of Toronto, Ontario will be coming off the bench as a center for the Miami Heat when they play the Los Angeles Lakers in Orlando, Florida. The product of Gonzaga University in Washington state is now in his first NBA Finals in his seven-year NBA career. Olynyk has now played four seasons with the Boston Celtics and three seasons with the Miami Heat.
In the 2020 NBA Playoffs in Orlando, Olynyk is averaging six points per game in 12.1 minutes. He is also averaging 4.1 rebounds and one assist in 12 games. Olynyk also has a field goal percentage of .463, three-point percentage of .313 and a free throw percentage of .800. Olynyk's best postseason game of the 2020 NBA Playoffs came on September 8 in a 103-94 Heat win over the Milwaukee Bucks in game five of the Eastern Conference semifinals. He had 12 points and was a +22. The win was memorable for Miami as they eliminated the number one seed in the Eastern Conference from the NBA playoffs.
It will now be interesting to see if Olynyk will represent Canada in men's basketball at the 2020 Olympic Games in Tokyo in 2021. That is in question now because next year's basketball season is expected to start into January, which would move the NBA season into the summer.