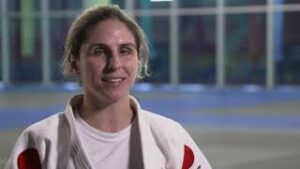 Judokan Priscilla Gagne of Granby, Quebec has been named the flag bearer for Canada in the Opening Ceremonies of the 2020 Paralympic Games in Tokyo in 2021, which starts Tuesday. Gagne, who has a visual impairment that impacts her central vision, was a bronze medalist for Canada at the 2018 Para Judo World Championships in Odivelas, Portugal, according to the Canadian Press on Saturday.
Gagne's specific disease is retinitis pigmentosa. Through this visual impairment, complete blindness is uncommon, but many people suffer night blindness.
Team Canada came away with its best Olympic judo performance ever at the 2020 Olympic Games in Tokyo in 2021. For the first time ever there were Canadian Olympic judo female medalists as Jessica Klimkait of Whitby, Ontario won the bronze medal in women's judo in the women's 57 kilogram weight class, and Catherine Beauchemin-Pinard of Montreal, Quebec, won the bronze medal in the women's 63 kilogram weight class.
Gagne meanwhile competes in the women's 52 kilogram weight class. She is only behind Inna Sych of the Ukraine in the world rankings. Sych has a B3 classification, while Gagne has a B1 classification. Among Gagne's other accomplishments are winning two gold medals at the IBSA Pan American Judo Championships in Canada. The first time in Calgary, Alberta in 2018, and the second time in Montreal, Quebec, in 2020. Gagne will be competing on August 27.