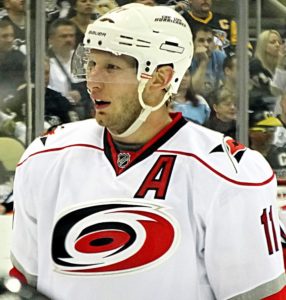 Jordan Staal of Thunder Bay, Ontario scored his third career National Hockey League Stanley Cup overtime-winning goal on Thursday. In what would have been a must-win game for Staal's Carolina Hurricanes, Staal scored from Sebastian Aho and Teuvo Teravainen on the power play in a 3-2 Hurricanes win over the Tampa Bay Lightning in game three of the Central Division Final. With the win, the Hurricanes won their first game of the best-of-seven series, but still trail the Lightning two games to one.
Staal was the only Canadian on the Hurricanes to register a point, and he ended up scoring the overtime winner. Initially, it seemed that Aho scored the game-winning goal at 5:57 of the extra period, however, Staal was credited with the goal when it was determined that he tipped the puck on a deflection.
This was Staal's fifth goal of the 2021 Stanley Cup Playoffs. He now has 32 career playoff goals in 105 postseason games.
Staal scored his first career overtime winner on April 26, 2019, in a 1-0 Hurricanes win over the New York Islanders. That was game one of the 2019 Eastern Conference semifinals. Staal's second career overtime winner came on May 25, 2021, in a 3-2 Hurricanes win over the Nashville Predators. This game was game five of the Central Division semifinals.