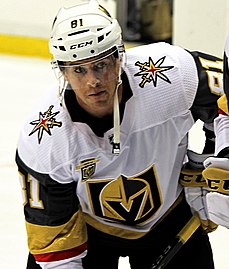 With the Vegas Golden Knights winning their first Stanley Cup in franchise history on Tuesday, Jonathan Marchessault of Cap-Rouge, Quebec won the 2023 Conn Smythe Trophy. During the 2023 Stanley Cup Playoffs, he led all players in goals (13), plus/minus (+17), even strength goals (10) and shots on goal (80). In 22 games, Marchessault also had 12 assists for 25 points, 14 penalty minutes, three power play goals, three game-winning goals. four blocked shots, 55 hits, 13 takeaways, and 13 giveaways.
Marchessault had one postseason hat trick. It came in a 5-2 Golden Knights win over the Edmonton Oilers in game six of the Western Conference semifinal series on May 14. Marchessault had three three-point games in the postseason. The others came in a 4-3 Golden Knights win over the Oilers in game five of the Western Conference semifinal series on May 12 (three assists), and in a 7-2 Golden Knights win over the Florida Panthers in game two of the Stanley Cup Finals on June 5 (two goals and one assist).
Marchessault becomes the 12th player from Quebec to win the Conn Smythe Trophy. He follows Jean Beliveau of Trois-Rivieres (1965 with the Montreal Canadiens), Dave Keon of Noranda (1967 with the Toronto Maple Leafs), defenseman Serge Savard of Landrienne (1969 with the Canadiens), Yvan Cournoyer of Drummondville (1973 with the Canadiens), goaltender Bernie Parent of Montreal (1974 and 1975 with the Philadelphia Flyers), Guy Lafleur of Thurso (1977 with the Canadiens), Mike Bossy of Montreal (1982 with the New York Islanders), goaltender Patrick Roy of Quebec City (1986 with the Canadiens. 1993 with the Canadiens and 2001 with the Colorado Avalanche), Mario Lemieux of Montreal (1991 and 1992 with the Pittsburgh Penguins), Claude Lemieux of Buckingham (1995 with the New Jersey Devils), and Jean-Sebastien Giguere of Montreal (2003 with the Mighty Ducks of Anaheim).