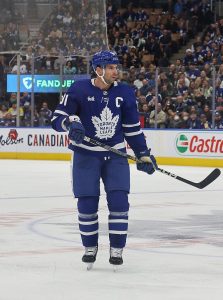 Canadian Olympic gold medalist John Tavares of Mississauga, Ontario recorded his first playoff hat trick of his National Hockey League career on Thursday. He scored thrice in a 7-2 Toronto Maple Leafs win over the Tampa Bay Lightning. With the win at the Scotiabank Arena in Toronto, the Maple Leafs and Lightning are now tied at one game apiece in the first round Eastern Conference playoff series. Prior to Thursday, Tavares had 11 NHL hat tricks, with all coming in the regular season.
Tavares, who won a gold medal at the 2014 Olympic Winter Games in Sochi, scored one goal in each period. At 12:45 of the first period, he scored from Morgan Rielly of Vancouver, British Columbia to put the Maple Leafs up 2-0. At 13:14 of the second period, Tavares scored from Rielly and William Nylander. Then at 15:06 of the third period on the power play, Tavares scored from Mitch Marner of Markham, Ontario, and Ryan O'Reilly of Clinton, Ontario to close out the scoring.
The other Maple Leafs hero on Thursday was Rielly, who tied the Maple Leafs franchise record for most assists in a playoff game with four. He also had assists on Maple Leafs goals by Marner and Nylander. Three other Maple Leafs players have had four assists in a game. They are Ian Turnbull of Montreal, Quebec, Darryl Sittler of Kitchener, Ontario, and Doug Gilmour of Kingston, Ontario. Turnbull had four helpers in an 8-5 Maple Leafs win over the Philadelphia Flyers on April 22, 1976 in game six of the Stanley Cup Playoff quarterfinals. Sittler had four assists in a 5-2 Maple Leafs win over the Pittsburgh Penguins on April 9, 1977 in game three of the Preliminary Round. Gilmour had four assists in an 8-3 Maple Leafs win over the San Jose Sharks on May 8, 1994 in game four of the Western Conference semifinals.
Tavares and Rielly were two of three Canadians with a multi-point game in game two. The other was Marner, with two goals and one assist for three points.