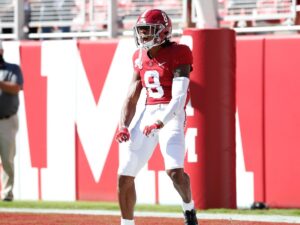 The University of Alabama Crimson Tide is currently the top collegiate football team in the United States with a record of eight wins and zero losses. On Saturday, the Crimson Tide continued their perfect season with a convincing 42-13 win over the University of Auburn in the 2020 Iron Bowl.
Among the Crimson Tide offensive stars was wide receiver John Metchie III of Brampton, Ontario. Metchie III caught six passes for 55 yards and two touchdowns in the 29-point Crimson Tide win. On the season, Metchie III now has 31 catches for 590 yards and six touchdowns.
In Alabama's win over Auburn, Metchie III had a touchdown in each half. He caught a seven-yard pass for a touchdown from Mac Jones 56 seconds into the second quarter, which put Alabama up 14-0 at the time. Metchie III's second major score came one minute and 33 seconds into the fourth quarter on a 24-yard touchdown reception from Jones.
This was Metchie III's second time this season he has had a multi-touchdown game. The first came on October 3 in a dominant 52-24 Alabama win over Texas A & M. In this contest, Metchie III had five catches for 181 yards and two touchdowns. Metchie III also had a 100-yard receiving game in a blowout Alabama victory against the University of Tennessee on October 24. In that contest, he had seven catches for 151 yards in a 48-17 Alabama win.