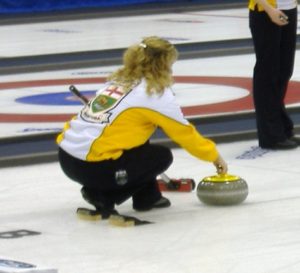 Jennifer Jones of Winnipeg, Manitoba skipped her team to a Grand Slam of Curling title in Sault Ste. Marie, Ontario on Sunday. By winning the 2017 Boost National by a score of 8-7 in the championship final over Casey Scheidegger of Lethbridge, Alberta, Jones has now won 15 grand slam curling titles and now two grand slams in 2017-18. Prior to winning the 2017 Boost National during the 2017-18 World Curling Tour season, Jones won the Masters in Lloydminster, Saskatchewan by beating Kerri Einarson of Winnipeg, Manitoba 6-5 in the championship final.
In Sault Ste. Marie, Jones had a perfect record of seven wins and zero losses. The 2014 Olympic gold medalist went 4-0 in Pool B action and then beat 2015 World Champion Alina Patz of Switzerland 7-4 in the quarterfinals and 2016 Scotties Tournament of Hearts champion Chelsea Carey of Calgary, Alberta 6-5 in the semi-finals. Jones's championship win over Scheiddeger in the final was her second win over the team from Lethbridge on the weekend as she beat Scheiddeger 8-4 in pool play on Friday.
Jones's win in Sault Ste. Marie is significant because it is the last significant curling tournament before the Canadian Olympic Curling Trials, which start in Ottawa on December 2. Mark the final draw of Friday, December 8 at 7pm ET on your calendar. That is when Jones will be facing reigning world champion Rachel Homan of Ottawa in round robin action.