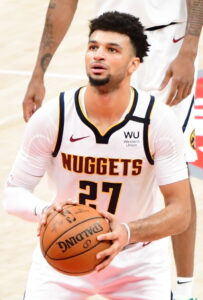 Jamal Murray of Kitchener, Ontario set the Denver Nuggets franchise record for most postseason games with 40 or more points with five on Wednesday according to Matt Brooks of nba.com. He accomplished the feat by scoring 40 points in a 122-113 Nuggets win over the Minnesota Timberwolves at the Ball Arena in Denver, Colorado. With the win, the Nuggets took a two games to none lead in the best out of seven series.
Murray made 13 of 22 field goals, six of 10 three-point attempts, and eight of nine free throws. He also had five assists, three rebounds, and two steals, and was a +1. In Murray's National Basketball Association career, he also had 50 points in a 129-127 Nuggets loss to the Utah Jazz on August 23, 2020, 42 points in a 117-107 Nuggets win over the Jazz on August 25, 2020, 50 points in a 119-107 Nuggets win over the Jazz on August 30, 2020, and 40 points in a 104-89 Nuggets win over the Los Angeles Clippers on September 15, 2020.
It should one noted that Murray has more 40-point games in the playoffs than he does in the regular season, which he has accomplished four times. Murray had 48 points in a 115-107 Nuggets win over the Boston Celtics on November 5, 2018, 46 points in a 122-118 Nuggets win over the Phoenix Suns on December 29, 2018, 50 points in a 120-103 Nuggets win over the Cleveland Cavaliers on February 19, 2021, and 41 points in a 128-108 Nuggets win over the Atlanta Hawks on February 4, 2023.