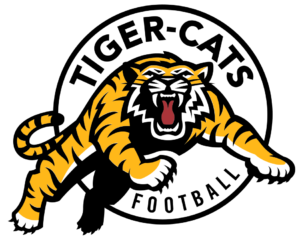 The Hamilton Tiger-Cats maintained their stranglehold on top of the Eastern Division on Monday. In a 38-27 Hamilton win over the Toronto Argonauts, running back Jackson Bennett of Cumberland, Ontario rushed for a game high 77 yards and a touchdown.
Bennett made the switch from defense to offense this season. In 2018, the University of Ottawa Gee-Gees product played safety and linebacker. Bennett's touchdown was a 25 yard run, which at the time tied the game at 27 points each early in the fourth quarter.
However due to the fact the Tiger-Cats released running back Alex Green, lost Mercer Timmis of Burlington, Ontario to the Argonauts in free agency (since retired), and had injuries to Sean Thomas-Erlington of Montreal, Quebec (knee surgery) and Cameron Marshall (undisclosed injury), a spot was open for Bennett to be a major part of the Hamilton offense. Bennett's production could also have been considered unexpected. Prior to Monday, Bennett only had -6 total rushing yards on three carries in Hamilton's season opener, a 23-17 win over the Saskatchewan Roughriders.
With the win, the Tiger-Cats improved to a record of nine wins and two losses. They are currently the best team in the Canadian Football League.
A Canadian was also instrumental in Saskatchewan's 19-17 win over the Winnipeg Blue Bombers on Sunday. Brett Lauther of Truro, Nova Scotia kicked a 26 yard field goal on the final play of the game to give the Saskatchewan Roughriders the win. With the victory, Saskatchewan improved to a record of seven wins and three losses and two points back of the Winnipeg Blue Bombers for first place in the Western Division.
The third CFL game this weekend took place in Calgary. There, the Stampeders beat the Eskimos 25-9 to move into third place in the Western Division.