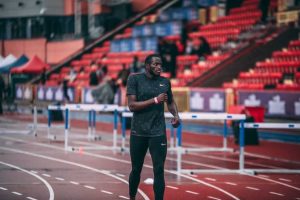 On July 23, Olympic silver medalist Jerome Blake of Burnaby, British Columbia was part of the Canadian men's 4×100 metre relay that won the gold medal at the 2022 International Association of Athletics Federation World Championships. Blake's silver medal also came in the men's 4×100 metre relay at the 2020 Olympic Games in Tokyo in 2021. On Wednesday, Blake took time out of his busy training schedule to speak with www.canadiansportscene.com. 
JF: How did you get involved in track and field?
JB: "I was born and raised in Jamaica. Track and field is almost second nature there. You did that or played soccer. I loved track so much, that is what I gravitated towards. It is always something that I have loved. That is how I got involved."
JF: What do you like about sprinting the most?
JB: "Technically, I did not really like sprinting at first because it was super hard. I wasn't really the best at it. I gravitated towards things I was best at and that was high jump and long jump. I was OK at hurdles. For me, it was more like trying to find out where to fit in. Once I moved to Canada, I got a coach that really paid attention to me at first, and helped develop my body into the sprinter I am now."
JF: How meaningful is it for you to win the gold medal at the IAAF World Championships?
JB: "For me, it was pretty much a surreal feeling and moment for me, especially for a kid who didn't really know what I wanted to do in track and field, how good I could become and how I would fit in. I wanted to see how far it would take me. I am fitting in quite well, it is going very well."
JF: What was it like for you to win as part of a team alongside Andre De Grasse, Aaron Brown and Brendon Rodney?
JB: "That was pretty cool. That was the same four guys that won a medal together at the Olympics. That was pretty special. To come back here in the fashion that we did, and to win gold, that was pretty a surreal moment for me, my family, my friends, and everyone that supports me. It was a really good feeling and something to look forward to in the future."
JF: Compare the race your team had from a technical standpoint in winning gold at the World Championships versus silver at the Olympic Games. 
JB: "With the Olympic final, it went by super fast. We were very young and cautious at what we were doing. We tried to make sure we were reacting to the check marks really well, shortened our marks, compressed them a little bit to make sure we were safe. This trip we went for broke. We went for it and see what happens. It was a pretty special feeling."
JF: Over the last several years, almost each and every time at major international competitions, the United States are considered the favourite, but struggle in the relay once the competitions begin. Do you know why?
JB: "No. That is not really my forte. I am an athlete and not a really big analyst guy. What I will say is that teams from Europe are the same group of guys. What I will say is that just because you run 9.8 does not mean anything in relay running. It shows you've got good foot speed, but in relay running, handoffs are the most important thing. You need good handoffs and accelerate through the zones.  
JF: Do you feel Canada can win gold in the men's 4×100 metre relay at the 2024 Olympic Games in Paris?
JB: "I mean it is only two seasons away. The most important thing we can do here is remain healthy, and have no major injuries or crazy injuries. If we can continue to do well and perform like we are doing right now, there is no telling what we are able to do once that comes around. We are all looking forward to bigger and better things for sure."