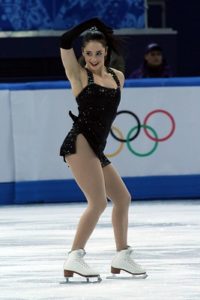 In the fifth of ten interviews of high performance Canadian athletes who have a serious chance of winning a medal at the 2018 Olympic Winter Games in Pyeongchang, I am thrilled to share with you my interview with 2017 World Figure Skating Championship silver medalist Kaetlyn Osmond of Marystown, Newfoundland. Osmond placed second at last year's world championship in ladies singles behind Evgenia Medvedeva of Russia. In her career, Osmond also won Skate Canada in 2012 in Windsor and the silver medal in the team competition at the 2014 Olympic Winter Games in Sochi.
Q: Looking back at your 2017 figure skating season, how pleased were you with your silver medal at the World Figure Skating Championships?
A: "Obviously there are no words that can describe how pleased I am. The medal was just an added bonus. I was just mostly happy with the entire season and the consistency. Finishing a whole season injury free is the first time I have ever done that which is exciting. Ultimately, I was just proud of how I did at worlds. At the end of my program, I had no regrets. I put in all the work and I did it when it counted."
Q: Injuries have been a serious trouble over the last couple of years. How is your leg feeling?
A: "My leg has been one hundred percent for two years now. Ever since I took a year off, it's been strong. It is probably stronger than it has ever been. Last season I struggled more with the mental aspect of skating. Now, I feel great."
Q: It was also a big year for Gabrielle Daleman. Is there a rivalry within the Canadian team?
A: "Gabby has been incredible. I went to the 2014 Olympic Winter Games in Sochi with her and we were both Olympic rookies during the competition. We were both excited just to perform and compete for Canada. The next year I was off, but she kept Canada on the map in ladies singles, which was incredible. (It was great) to be able to compete against her this year internationally and have both of us skate so consistently. (We were able to) prove to the world that Canadian ladies are consistent and we can compete at the highest level. To be able to compete against someone that I shared the podium with at worlds in Canada keeps the momentum going and I think that will help a lot."
Q: Is there a friendly rivalry between you and Gabrielle?
A: "Definitely. Skating always has a rivalry. We push each other but it is friendly."
Q: You were born in Newfoundland and train in Alberta. Tell me about the support you have been able to receive on both sides of the country?
A: "It is so much fun being from both ends of the country. I haven't lived in Newfoundland since I was eight years old and they continue to support me more and more every year. Newfoundland has a small town feel and it is always going to be home for me. But I always consider Edmonton home now also. I have been there for 11 years now and I will probably stay there for much, much longer. They've been super supportive. They were with me the whole time I was injured and they've been with me this whole season, pushing me through."
Q: I understand you are a big Edmonton Oilers fan as well.
A: "I am a huge Oilers fan. This year was the first year they made the playoffs since the day I moved to Edmonton. So it was exciting."
Q: Team Canada will be a medal contender in the team event at the 2018 Olympic Winter Games in Pyeongchang. You participated and won a silver medal in Sochi in the discipline. What were your memories of that event in Sochi?
A: "The team event felt it was like yesterday and it feels so long ago at the same time. I will never forget the feeling of being able to compete. One of the fondest memories was having the entire team in the kiss and cry with me after I finished skating. In a sport that is so individual, to have that team aspect, it felt really good. Being a single skater, I don't even have a partner. It was really nice to have that support and excitement. Obviously jumping on to the podium with other people and winning that silver medal was remarkable."
Q: Evgenia Medvedeva of Russia has been the class of women's figure skating over the last couple of years. What impresses you the most with her level of skating?
A: "I am mostly impressed with her consistency. It is something I have struggled with my entire life. To see her go out there each and every time and just lay out a perfect program, and listen to her talk and hear how she wants to continually improve on an even great program is truly remarkable. You can always tell that she puts in the work and she knows what she is doing. It is incredible to watch."
Q: What are your goals this season?
A: "This season I just wanted to continue with what I did last year. I want to continue having fun and enjoying it. I also want to improve on what I did. I want to skate even more consistently than what I did all year. That is my biggest goal. Definitely at the back of my mind is the podium at the Olympics and see what happens there."