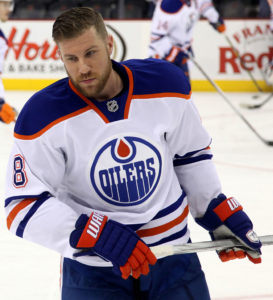 Hockey Canada has announced the men's roster for the 2018 Olympic Winter Games in Pyeongchang. In a press conference in Calgary on Thursday, 14 forwards, eight defensemen and three goalies were selected.
Some of the more high profile names chosen include former National Hockey League players Derek Roy, Ben Scrivens, Rene Bourque, Chris Kelly, Mason Raymond, Wojtek Wolski and Maxim Lapierre. Meanwhile, Chris Lee of MacTier, Ontario, was chosen to lead a rather inexperienced blueline. Lee, who currently plays for Metallurg Magnitogorsk of the Kontinental Hockey League, was the only player on Team Canada's silver medal winning team at the 2017 International Ice Hockey Federation World Championships in France and Germany not in the NHL.
Of the 25 players on the roster, eight each are from Ontario and Alberta. There are four from Quebec, two each from British Columbia and Manitoba, and one from Saskatchewan.
Six different leagues are represented on Team Canada. There are 13 from the Kontinental Hockey League in Russia, four who play in Switzerland, three each who play in Sweden and the American Hockey League, and one each from Germany and Austria.
Of the 24 players on Team Canada, eight players won a gold medal for Canada at the Spengler Cup–Raymond, Kelly, Lapierre, Andrew Ebbett, Christian Thomas (son of former Toronto Maple Leaf Steve Thomas), Cody Goloubef, Maxim Noreau and Kevin Poulin. Other players who made Team Canada were Gilbert Brule, Quinton Howden, Rob Klinkhammer, Brandon Kozun, Eric O'Dell, Linden Vey, Stefan Elliott, Chay Genoway, Marc-Andre Gragnani, Mat Robinson, Karl Stollery and Justin Peters.