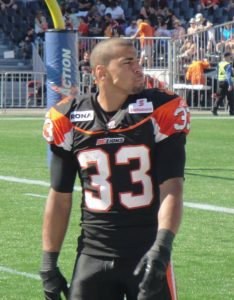 Week six has come to a close in the Canadian Football League, and two Canadians were in the spotlight with outstanding offensive performances. Brad Sinopoli of Peterborough, Ontario and Andrew Harris of Winnipeg, Manitoba had excellent games and led their teams to victory.
Harris had 27 carries for 161 yards and a touchdown, along with two catches for 16 yards and a touchdown in the Winnipeg Blue Bombers' 38-20 win over the Toronto Argonauts on Saturday. He was also the CFL top performer of the week.
Harris leads the CFL in rushing yards so far this season with 610. He has 168 more yards than Don Jackson of the Calgary Stampeders, who is in second place with 442 yards.
Sinopoli had a career high 171 yards receiving and was the CFL's second best performer of the week. He had 11 catches and a touchdown in Ottawa's 29-25 win over the British Columbia Lions on Friday.
A third Canadian was a difference maker offensively for his team in week six. Brandon Bridge of Toronto, Ontario continues to play well at quarterback for the Saskatchewan Roughriders while Zach Collaros is out with a head injury. Bridge completed 17 of 22 passes for 165 yards and a touchdown in Saskatchewan's 31-20 win over the Hamilton Tiger-Cats on Thursday. Bridge's touchdown pass was 24 yards to Naaman Roosevelt at 4:57 of the third quarter, which put the Roughriders up 20-17 at the time. It would be a lead the Roughriders would not relinquish.