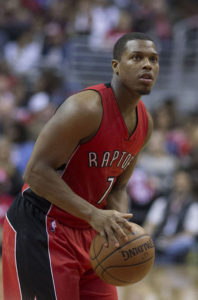 Sunday, July 2, 2017 will be remembered as an excellent day for the Toronto Raptors organization and a horrendous one for the Toronto Blue Jays. 
First off, let's look at the Raptors. It appears they will be once again competitive in 2017-18. The Raptors were able to re-sign power forward Serge Ibaka to a whopping three year deal worth $65 million. Oh and they weren't done. Later on Sunday, the Raptors opened their pocket book again and signed all-star point guard Kyle Lowry to a three year contract worth a whopping $100 million.
The Raptors now have a formidable big three with DeMar DeRozan in the mix. Now the questions lie whether or not Raptors president of basketball operations Masai Ujiri and general manager Bobby Webster can assemble a formidable cast around Toronto's stars. Unfortunately for Raptors fans they lost P.J. Tucker earlier on Sunday to the Houston Rockets and might lose Toronto native Cory Joseph soon to the Indiana Pacers. Do not be surprised if the Raptors will also look to trade center Jonas Valanciunas as well.
Now for the Blue Jays. They had outstanding fan support this past weekend against the Boston Red Sox. Even Don Cherry was in the crowd on Saturday to celebrate Canada's 150th birthday. It is just really too bad the Blue Jays were simply pitiful. Toronto was outscored 29-6 by Boston on the weekend including a score of 15-1 on Sunday. Justin Smoak is having a career year and will be going to represent the Blue Jays at the All-Star Game in Miami in July, but the rest of the team is simply pitiful at the moment. It is now time for the Blue Jays management to blow things up and go into short-term rebuild. At 37-44, they are four and a half games back of the Tampa Bay Rays for a Wildcard spot, (which is in striking distance), but unfortunately there are six teams between Toronto and Tampa.