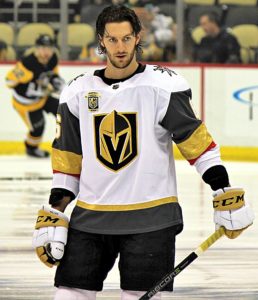 The Vegas Golden Knights have traded defenseman Colin Miller of Sault Ste. Marie, Ontario to the Buffalo Sabres on Friday. In return, the Golden Knights acquired a second round draft pick in the 2021 National Hockey League Entry Draft and a fifth round draft pick in the 2022 National Hockey League Entry Draft.
Miller had three goals and 26 assists for 29 points in 65 games with the Golden Knights in 2018-19. He had a zero plus/minus rating with 44 penalty minutes, 13 power play points, 131 shots on goal, 64 blocked shots, 122 hits, 22 takeaways and 46 giveaways.
The Sabres become Miller's third NHL team. Prior to his two seasons with the Golden Knights, he played two seasons with the Boston Bruins.
Miller becomes the second Sabres defenseman that is under contract through the 2021-22 season. The other is Rasmus Ristolainen.
Miller is also one of three Canadian defensemen on the Sabres roster at the moment. The other two are Marco Scandella of Montreal, Quebec and Brandon Montour of Brantford, Ontario.
The Buffalo Sabres have not made the playoffs since 2011 when they lost the Eastern Conference quarterfinals to the Philadelphia Flyers in seven games and have never won the Stanley Cup. The Sabres might have history on their side in 2020 however. That is because in the last two seasons, teams that first joined the National Hockey League around the same time as the Sabres (in the expansion era) have won their first Stanley Cup in franchise history. The Washington Capitals won in 2018 and the St. Louis Blues won in 2019.