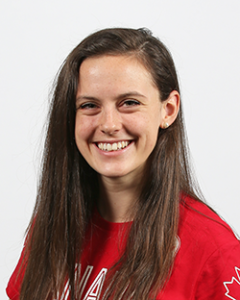 Gabriela DeBues-Stafford of London, Ontario won a bronze medal in a women's 1500 metre Diamond League race in London, Great Britain on Saturday. In posting a time of four minutes and 0.26 seconds, DeBues-Stafford also set a Canadian national record.
DeBues-Stafford reached the podium by 0.14 seconds. Winnie Nanyondo of Uganda finished in fourth place with a time of 4:00.40. Laura Muir of Great Britain won the gold medal with a time of 3:58.25 and Winny Chebet of Kenya won the silver medal with a time of 3:59.93.
This is the first time in DeBues-Stafford's career that she has won a medal in a Diamond League event that is also contested at the Olympic Games. On July 12, 2019, DeBues-Stafford won a bronze medal in the women's one mile event at a Diamond League meeting in Monaco, but that is not part of the Olympic program.
With the bronze medal, DeBues-Stafford moved into third place in the Diamond League standings with 17 points. DeBues-Stafford was tied with Rababe Arafi of Morocco. Gudaf Tsegay of Ethiopia recorded the most Diamond League points with 24. She was followed by Sifan Hassan of the Netherlands with 19 points.
This was the final women's 1500 metre event where competitors can accumulate points in the Diamond League standings for the 2019 athletics season. The world's best women's 1500 metre racers will now concentrate on the 2019 International Association of Athletics Federations World Championship in Doha, Qatar on October 5.
DeBues-Stafford set the record previously held by Lynn Kanuka-Williams of Regina, Saskatchewan. Kanuka-Williams, who won a bronze medal for Canada in the women's 3000 metres at the 1984 Olympic Games in Los Angeles,set the previous Canadian record at the Memorial Van Damme competition in Brussels, Belgium on August 30, 1985. The bronze medal for DeBues-Stafford will give her confidence as she prepares for the 2020 Olympic Games in Tokyo.
This was DeBues-Stafford's second Canadian record of 2019. She also set a Canadian record in the women's 5000 metres at a Diamond League event in Stockholm, Sweden on May 18 with a time of 14:51.59.