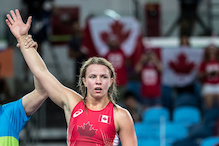 There are four Canadian wrestlers who have qualified for the 2020 Olympic Games in Tokyo.They are Canadian Olympic gold medalist Erica Wiebe of Stittsville, Ontario, World Championship silver medalist Danielle Lappage of Olds, Alberta, Amar Dhesi of Surrey, British Columbia and Jordan Steen of Windsor, Ontario. All four wrestlers placed in the top two in their weight class at the 2020 Pan American Olympic Wrestling Qualification Tournament in Ottawa, Ontario.
Wiebe, who won the gold medal for Canada at the 2016 Olympic Games in Rio de Janeiro, won all four of her matches to clinch an Olympic berth. She defeated Aline Ferreira of Brazil 3-1, Milaimys Marin of Cuba 4-0 and Andrimar Lazaro 6-0 of Venezuela 6-0 in women's 76 kilogram Pool action and then Genesis Reasco of Ecuador 6-0 in semifinal action.
Lapagge only needed to win two matches to qualify for the Olympic Games in Tokyo in the women's 68 kilograms. She beat Luz Vazquez of Argentina 10-0 in the quarterfinals and Leonela Ayovi of Ecuador 10-0 in the semifinals.
Steen posted a record of three wins and one loss to qualify for the Olympic Games in Tokyo in the men's 97 kilogram division. He beat Miguel Sanchez of Mexico 11-0 and Jose Daniel Diaz of Venezuela 12-1, while losing to Reineris Salas of Cuba 5-0 in pool play. By finishing second, Steen faced the first place wrestler in the other pool in the semifinals, and beat Luis Miguel Perez of the Dominican Republic 13-2.
Like Wiebe and Lapagge, Dhesi was undefeated in the qualification tournament. He beat Luis Vivenes of Venezuela 11-0 and Eduardo Garcia of Mexico 10-0 in pool play and then beat Charles Merrill of Puerto Rico 6-0 in the semifinals.