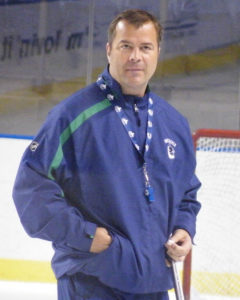 The Philadelphia Flyers of the National Hockey League named Alain Vigneault of Quebec City, Quebec their new head coach on Monday. Vigneault replaces Scott Gordon, who had been the Flyers interim head coach since April 15.
The Flyers become the fourth National Hockey League team Vigneault has coached. He has also been the head coach of the Montreal Canadiens, Vancouver Canucks and New York Rangers.
Twice Vigneault has taken a team to the Stanley Cup Finals. In 2011 he got there with the Canucks, before Vancouver lost in seven games to the Boston Bruins. Then in 2014 he got there with the Rangers, before New York lost in five games to the Los Angeles Kings.
In the 16 seasons Vigneault has coached in the National Hockey League, he has taken a team to the Stanley Cup playoffs 11 times. Vigneault has an overall record of 648 wins, 435 losses, 35 ties and 98 overtime losses.
In 2018-19, the Flyers reached the .500 mark with a record of 37 wins, 37 regulation losses and eight losses in extra time for 82 points. They were 16 points back of the Columbus Blue Jackets for a playoff spot.
However before Vigneault will be coaching the Flyers, he will be the bench boss for Team Canada at the 2019 World Men's Hockey Championship in Slovakia. Canada will have their Group A games in Kosice against the United States, Finland, Germany, Slovakia, Denmark, France and Great Britain. The medal round then starts May 23.