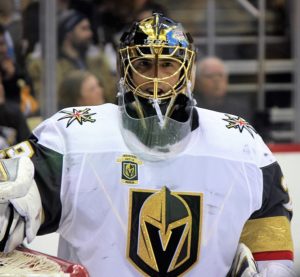 Canadian Olympic gold medalist Marc-Andre Fleury of Sorel, Quebec has set a career high in playoff shutouts. Last night Fleury recorded his fourth playoff shutout of the 2018 National Hockey League Stanley Cup playoffs as the Vegas Golden Knights beat the San Jose Sharks 3-0 in game six of the second round from San Jose, California.
With the win, the Golden Knights won the best out of seven series four games to two. The fact that Vegas has qualified for the Western Conference Final is remarkable when you consider the fact that the Golden Knights are an expansion franchise.
Fleury's previous high for playoff shutouts came in 2008 with three. That year the Penguins reached the Stanley Cup Final, but lost to the Detroit Red Wings in six games.
In game six against the Sharks, Fleury made 28 saves for the shutout. He made 11 saves in the first period, seven saves in the second period and 10 saves in the third period.
Jonathan Marchessault of Quebec City, Quebec scored the game winning goal for the Golden Knights in game six. Cody Eakin of Winnipeg, Manitoba also scored for Vegas.
Fleury won his gold medal for Canada at the 2010 Olympic Winter Games in Vancouver. He backed up Roberto Luongo. who now plays for the Florida Panthers and Martin Brodeur.