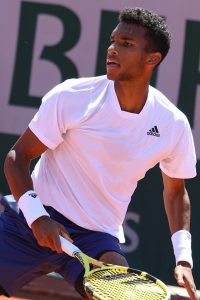 Felix Auger-Aliassime of Montreal, Quebec is in the finals of the 2023 Swiss Indoor Tennis Tournament from Basel, Switzerland. The 23-year-old Canadian won the 2022 Swiss Indoor Tennis Tournament, and now he has the chance to repeat as champion. He will face Hubert Hurkacz of Poland in Sunday's final.
In Saturday's semifinal, Auger-Aliassime beat Holger Rune of Denmark, 6-3, 6-2. It was an outstanding performance for Auger-Aliassime as he had five aces compared to zero double faults. He won 76% of his first serve points, 75% of his second serve points, and broke Rune thrice. The fact that Auger-Aliassime beat the sixth ranked player in the world and number one seed in Basel in straight sets could be a significant confidence booster for him going forward.
In addition to beating Rune, Auger-Aliassime beat Leandro Reidl of Switzerland 6-3, 6-2 in round one, Botic van de Zandschulp of the Netherlands 6-4, 6-2 in round two, and Alexander Shevchenko of Russia 7-6, 3-6, 7-6 in the quarterfinals.
In Basel, Hurkacz is seeded fourth and Auger-Aliassime is seeded sixth. Head-to-head, Auger-Aliassime has won two of three matches. Auger-Aliassime won 7-6, 6-4 in the third round of Miami in 2019, and 6-3, 7-5 in the first round of Halle in 2021. Hurkacz won 7-6, 7-6 in the quarterfinals of Halle in 2022.
Both Hurkacz and Auger-Aliassime are grand slam semifinalists. Hurkacz made the final four of Wimbledon in 2021, and Auger-Aliassime made the final four of the 2021 United States Open.