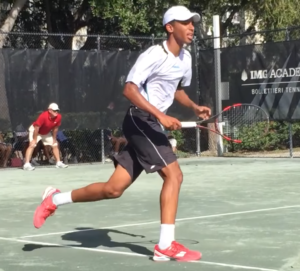 Felix Auger-Aliassime reached his fifth ATP final on Sunday. Auger-Aliassime, the seventh seed, made the final two before losing to second ranked Stefanos Tsitsipas of Greece, 6-3, 6-4 in the final of the Open 13 Provence from Marseille, France.
Auger-Aliassime beat Stefano Travaglia of Italy 6-7, 7-6, 6-3 in the first round. That was followed by a win over Pierre-Hugues Herbert of France 6-0, 6-7, 7-6 in the second round, qualifier Egor Gerasimov of Belarus 7-5, 6-2 in the quarterfinals and Gilles Simon of France 7-5, 7-6 in the semifinals.
One could argue that Auger-Aliassime got the benefit of the draw because he did not need to play a seeded player until he faced Tsitsipas in the final. However, due to the fact he beat Herbert and Simon in France, when he would not have the French crowd for him, should be considered as significant.
Even though Simon was unseeded, he is a two-time grand slam quarterfinalist (2009 Australian Open and 2015 Wimbledon), has reached as high as sixth in the world (2009), and has won 14 ATP Titles including two Open 13 events. In 2007, Simon beat 2006 Australian Open finalist Marcos Baghdatis of Cyprus in the final 6-4, 7-6 and in 2015, Simon beat 2008 French Open semifinalist and 2016 United States Open semifinalist Gael Monfils of France in the final 6-4, 1-6, 7-6.
This was the second ATP final for Auger-Aliassime in 2020. On February 16, Auger-Aliassime lost 6-2, 6-4 to Monfils in the final of Rotterdam.
Auger-Aliassime is scheduled to be the only Canadian participating this week at the Acapulco Open in Mexico. He is slated to play Alex Bolt of Australia in the first round.