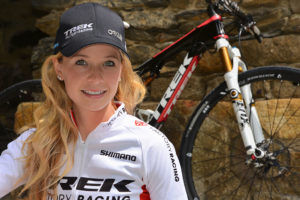 Emily Batty of Oshawa, Ontario won her second bronze medal of her career at the World Mountain Biking Championships on Saturday from Lenzerheide, Switzerland. Batty placed third behind gold medalist Kate Courtney of the United States and silver medalist Annika Langvad of Denmark.
Batty posted a third place time of one hour, 36 minutes and 53 seconds. She was 15 seconds faster than defending world champion Jolanda Neff of Switzerland, who won last year's World Mountain Biking Championship in Cairns, Australia. Neff, who was the favourite of the crowd, could not reach the top three as she posted a fourth place time of 1:37.08.
Courtney's gold medal time was one hour, 34 minutes and 55 seconds. Langvad's silver medal time was one hour, 35 minutes and 22 seconds.
Langvad had the lead for the first half of the race, but it was clear that Courtney was building momentum behind her. Near the end of the race it was Courtney who had a significant amount more energy. Another reason for Courtney's win was the excellent execution of the difficult areas of the course. She handled the rockiest portions very well.
Batty meanwhile seemed like she was in third place during the entire competition. She was never really tested by Neff for third, but had a tough time contending for the top two positions where Courtney and Langvad were battling for.
Batty previously won the bronze medal in women's mountain biking at the 2016 World Mountain Biking Championships in Nove Mesto na Morave, Czech Republic. The bronze medal in Lenzerheide will give her confidence as she is clearly a strong medal contender for Canada at the 2020 Olympic Games in Tokyo.