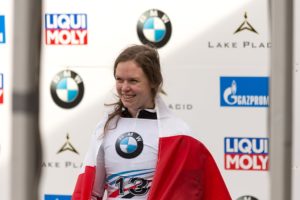 Elisabeth Maier of Calgary, Alberta won the silver medal in a World Cup women's skeleton competition in Sigulda, Latvia on Sunday. Maier, who used to be Elisabeth Vathje before marrying Austrian bobsledder Benjamin Maier in Hawaii this past March, won a medal in her first World Cup skeleton competition during the 2018-19 skeleton season.
Maier posted a second place time of 1:45.42. Elena Nikitina of Russia won the gold medal with a time of 1:45.12. Tina Hermann of Germany won the bronze medal with a time of 1:45.60.
Maier reached the podium by 0.27 seconds over Jane Channell of Vancouver, British Columbia. Channell delivered a fourth place time of 1:45.69.
A Russian won the men's skeleton World Cup race as well. Reigning Olympic silver medalist Nikita Tregubov, who competed at last year's Olympic Winter Games in Pyeongchang for the Olympic Athletes from Russia, beat out Latvian legend Martins Dukurs.
The World Cup in Latvia was the first of eight World Cup competitions this season. Calgary will host the last World Cup on the weekend of February 23-24, 2019. Three of the eight World Cups are in Germany, with Winterberg, Altenberg and Konigssee, as the host sites. The other three World Cups are in Igls, Austria, St. Moritz, Switzerland and Lake Placid, New York.