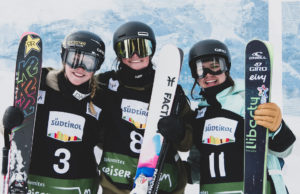 Elena Gaskell of Vernon, British Columbia won a bronze medal on Saturday in a women's World Cup slopestyle skiing competition in Seiseralm, Italy. For Gaskell, it was her third World Cup medal of her career and first in slopestyle skiing, as her first two came in big air skiing.
Gaskell posted a score of 79.68 points. Caroline Claire of the United States won the gold medal with a score of 86.13 points. Johanne Killi of Norway won the silver medal with a score of 81.3 points. Gaskell reached the podium by 1.55 points over Mathilde Gremaud of Switzerland, who was in fourth place with a score of 78.13 points.
Gaskell is now in fifth place in the 2019-20 World Cup women's slopestyle skiing standings with 92 points. Giulia Tanno of Switzerland and Killi lead with 104 points. Claire and Tess Ledeux of France are tied for third with 100 points.
Gaskell's first World Cup medal was a gold medal in big air in Cardrona, New Zealand on September 7, 2018. She then won bronze in Quebec City on March 16, 2019.
The World Cup in Italy was the second of five World Cup events on the calendar this season in women's slopestyle skiing. Calgary will be hosting a World Cup on February 15. The bronze medal for Gaskell will give her confidence as she prepares for the 2022 Olympic Winter Games in Beijing.