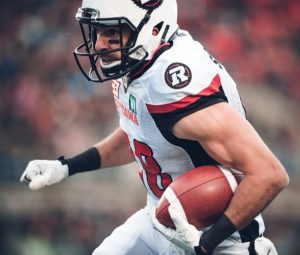 The Canadian Football League announced their annual all-star team on Tuesday with 27 players selected to the list. Among the players chosen were eight Canadians. They were Winnipeg Blue Bombers running back Andrew Harris of Winnipeg, Manitoba, Ottawa Redblacks wide receiver Brad Sinopoli of Peterborough, Ontario, Blue Bombers centre Matthias Goossen of Richmond, British Columbia, Hamilton Tiger-Cats offensive guard Brandon Revenberg of Essex, Ontario, Saskatchewan Roughriders offensive guard Brendon LaBatte of Weyburn, Saskatchewan, Calgary Stampeders linebacker Alex Singleton of Toronto, Ontario, Blue Bombers safety Taylor Loffler of Kelowna, British Columbia, and Redblacks kicker Lewis Ward of Kingston, Ontario.
It was a record season for Sinopoli. In addition to being named the most outstanding Canadian, Sinopoli broke the Redblacks record for most receptions in a season and the CFL record for most catches by a Canadian in a season with 116. Harris meanwhile led the CFL in rushing yards with 1390, while Ward was the recipient of the CFL rookie of the year and special teams player of the year for his outstanding field goal kicking. Ward successfully made 51 of 52 field goal attempts and was second in the CFL in field goals made. He was only three back of Saskatchewan Roughriders kicker Brett Lauther of Truro, Nova Scotia, who made 54 field goals.
Singleton meanwhile was on a Stampeders team that won the Grey Cup, and gave up a CFL least 363 points this season. He also led the CFL in tackles with 123. Loffler meanwhile had 52 tackles, three interceptions and one fumble recovery.