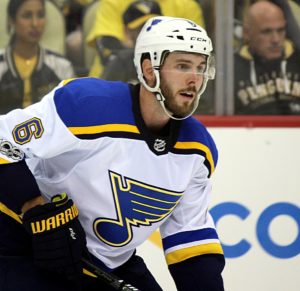 Joel Edmundson of Brandon, Manitoba led the St. Louis Blues in scoring on Monday in game two of the 2019 Western Conference Final of the National Hockey League Stanley Cup playoffs. Edmundson was the only Blues player to have a multi-point game as the Blues defeated the San Jose Sharks 4-2 from the SAP Center in San Jose, California. With the win, the best out of seven series is tied at one game apiece.
Edmundson notched two assists on Monday. His first point came on the opening goal of the game. Jaden Schwartz of Melfort, Saskatchewan scored from Edmundson and Vladimir Tarasenko at 2:34 of the first period to put St. Louis up 1-0. Then Edmundson and Tyler Bozak of Regina, Saskatchewan notched assists on the Blues game winning goal by defenseman Robert Bortuzzo of Thunder Bay, Ontario at 16:34 of the second period which put the Blues up 3-2 at the time.
A defenseman, Edmundson now has six points (one goal and five assists) in 13 postseason games for St. Louis. Another Canadian Blues defenseman also scored for the Blues in the second period as Vince Dunn of Mississauga, Ontario put the Blues up 2-0 at 4:16.
The series now shifts to Missouri on Wednesday night. Meanwhile, the Boston Bruins will play the Carolina Hurricanes in game three of the Eastern Conference Final from Raleigh, North Carolina on Tuesday. The Bruins lead the best out of seven series two games to none.