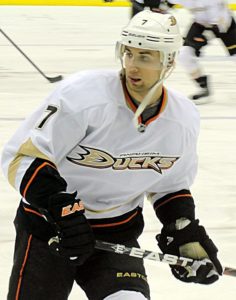 The Anaheim Ducks traded Andrew Cogliano to the Dallas Stars for Devin Shore on Monday. Both Cogliano and Shore are Canadian as Cogliano is from Toronto, Ontario and Shore is from Ajax, Ontario.
Cogliano, who plays left wing and center, had three goals and eight assists for 11 points in 46 games for the Ducks this season. He was a +2 with 14 penalty minutes, one power play point, one game winning goal, 64 shots on goal, seven faceoff wins, 13 blocked shots, 43 hits, 13 takeaways and 15 giveaways.
Cogliano's game winning goal came in a 3-2 Ducks win over the St. Louis Blues on October 14. Winning is something the Ducks have not done much as of late as they have lost 11 straight games.
One remarkable strength Cogliano brings to the Stars is his durability. In 12 NHL seasons (eight with the Ducks and four with the Edmonton Oilers), Cogliano has played 912 of a possible 914 regular season games since 2007 and the only two games he missed were last year because of a suspension.
Shore, also a center, has five goals and 12 assists for 17 points with Dallas this season. His best game came on October 30, when he had one goal and two assists for three points in a 4-1 Stars win over the Montreal Canadiens. In 42 games this season, Shore is a zero plus/minus rating, seven penalty minutes, two power play points, one shorthanded point, three game winning goals, 44 shots on goal, 30 faceoff wins, 33 blocked shots, 42 hits, 16 takeaways and 13 giveaways.
The Stars are currently third in the Central Division with 50 points. The Ducks are fifth in the Pacific Division with 47 points.