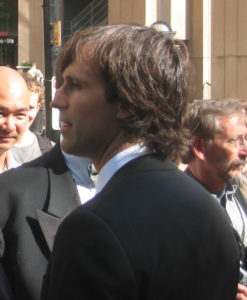 The Anaheim Ducks retired the jersey of Scott Niedermayer of Edmonton, Alberta on Sunday. Niedermayer, who wore no. 27 for the Ducks, played in Anaheim from 2005-2010. In five seasons with Anaheim, he played 371 games and had 60 goals and 204 assists for 264 points.
Niedermayer was also the Ducks captain for their only Stanley Cup title in franchise history. When the Ducks won the Stanley Cup in 2007, Niedermayer set career highs in goals (15), assists (54) and points (69).  That season Niedermayer also won the Conn Smythe Trophy and was on the NHL's first all-star team for the second straight year with the Ducks.
Niedermayer became the third Ducks player in franchise history to have his number retired. The other two Ducks to have their number retired are Paul Kariya of Vancouver, British Columbia, who had his number nine retired in 2018 and Teemu Selanne, who had his number eight retired in 2015.
Niedermayer also becomes the ninth player in hockey history to have his number retired by two different teams. He originally had his number 27 retired by the New Jersey Devils in 2011. The other eight are Bobby Hull of Point Anne, Ontario (Chicago Black Hawks and Winnipeg Jets), Gordie Howe of Floral, Saskatchewan (Detroit Red Wings and Hartford Whalers), Wayne Gretzky (throughout the NHL), Ray Bourque of Saint-Laurent, Quebec (Boston Bruins and Colorado Avalanche), Mark Messier of Edmonton, Alberta (Edmonton Oilers and New York Rangers), Patrick Roy of Quebec City, Quebec (Montreal Canadiens and Colorado Avalanche), Tim Horton of Cochrane, Ontario (Buffalo Sabres and Toronto Maple Leafs) and Red Kelly of Simcoe, Ontario (Detroit Red Wings and Toronto Maple Leafs).