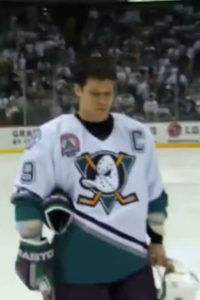 The Anaheim Ducks of the National Hockey League have retired the number nine jersey of Paul Kariya in a ceremony prior to the Ducks' 4-2 loss to the Buffalo Sabres on Sunday. Kariya, a native of Vancouver, British Columbia, becomes the second Ducks player in franchise history. Teemu Selanne, had his number eight retired in 2015.
Kariya played nine seasons with the Ducks from 1994-2003. In 606 regular season games, Kariya had 300 goals and 369 assists for 669 points. He was a +52 with only 213 penalty minutes, 263 power play points, 44 game winning goals 21 shorthanded points and 2455 shots on goal.
In 1996-97, Kariya led the NHL with 10 game winning goals and 340 shots on goal. In 1998-99, Kariya once again led the NHL in shots on goal as he had 429. A three-time first team NHL All-Star, Kariya won the Lady Byng Trophy in 1996 and again in 1997. He also represented the Ducks at seven NHL All-Star Games. Kariya was inducted into the Hockey Hall of Fame in 2017. In addition to playing for the Ducks, Kariya played one season for the Colorado Avalanche, two seasons for the Nashville Predators and three seasons for the St. Louis Blues.
On the international scene, Kariya, a left winger, won a gold medal for Canada in men's hockey at the 2002 Olympic Winter Games in Salt Lake City, and a silver medal at the 1994 Olympic Winter Games in Lillehammer. He also won a gold medal for Canada at the 1993 World Junior Hockey Championship in Gavle, Sweden and the 1994 World Hockey Championship in Milan, Italy.