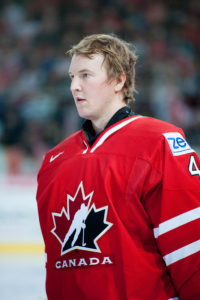 Two Canadian goaltenders recorded a shutout on January 7. Devan Dubnyk of Regina, Saskatchewan made 32 saves as the Minnesota Wild beat the Montreal Canadiens 1-0 and Jordan Binnington of Richmond Hill, Ontario made 25 saves as the St. Louis Blues shutout the Philadelphia Flyers 3-0.
In the Wild win over the Canadiens, Dubnyk made 11 saves in the first period, 11 saves in the second period and 10 saves in the third period. It was Dubnyk's first shutout of the 2018-19 National Hockey League regular season and 30th of his career. He has had 21 shutouts with the Wild, eight with the Edmonton Oilers and one with the Arizona Coyotes.
Mikael Granlund scored the only goal of the hockey game. He got the puck past Carey Price with 6:58 left in the third period.
It is the second time in a month that the Wild beat the Canadiens. On December 11, the Wild hammered the Canadiens 7-1. With the win over the Canadiens on Monday, Minnesota improved to a record of 21 wins, 17 regulation losses and three losses in extra time for 45 points. Dubnyk meanwhile improves to 16 wins, 14 regulation losses, three losses in extra time, goals against average of 2.56 and a save percentage of .915.
In the Blues win over the Flyers, Binnington notched a shutout in his first NHL career win. He made 11 saves in the first period, six saves in the second period and eight saves in the third period. Meanwhile, two Canadians scored for the Blues. Brayden Schenn of Saskatoon, Saskatchewan scored the game winning goal with 41 seconds into the first period from Jaden Schwartz of Wilcox, Saskatchewan and Carl Gunnarsson. Then with 1:48 left in the hockey game, David Perron of Sherbrooke, Quebec scored into an empty net from Ryan O'Reilly of Clinton, Ontario and Zach Sanford.
In other NHL news, Calgary Flames star Johnny Gaudreau has been named the NHL player of the week for the week from December 31-January 6. In four games, Gaudreau had five goals and six assists for 11 points.