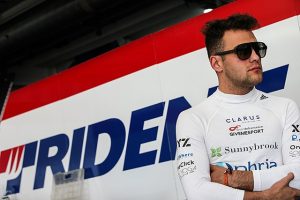 The 2023 Indianapolis 500 is to take place on Sunday at the Indianapolis Motor Speedway in Speedway, Indiana. On the starting grid of 33 riders is one Canadian. That is Devlin DeFrancesco of Toronto, Ontario.
DeFrancesco had the 26th fastest time in qualifying, and will start on the inside of row nine. The reason why he is starting on the inside of row nine in the 25th spot rather than the middle of row nine is because Stefan Wilson of Sheffield, England, who had the 24th fastest time in qualifying, was injured in practice. As a result Graham Rahal of New Albany, Ohio was added to the field even though he failed to qualify. Graham Rahal is the son of 1986 Indianapolis 500 champion Bobby Rahal of Medina, Ohio.
This is DeFrancesco's second Indianapolis 500. Last year, he finished 20th. Both last year and this year, DeFrancesco is a member of Andretti Steinbrenner Autosport. He is one of five drivers in the field representing Team Andretti. Others are Marco Andretti, Kyle Kirkwood, and Colton Herta of the United States, and Romain Grosjean of France. In addition to representing Andretti Steinbrenner Autosport, DeFrancesco is also representing Honda as he is one of 17 race car drivers in the field who has Honda rather than Chevrolet as an engine.
Only once before has a Canadian won the Indianapolis 500. In 1995, Jacques Villeneuve of Saint-Jean-sur-Richelieu, Quebec was victorious even though he was penalized two laps earlier in the race for passing the pace car.