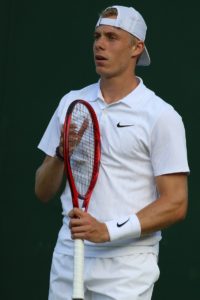 Canadians Denis Shapovalov of Toronto, Ontario and Felix Auger-Aliassime of Montreal, Quebec are both in third round of Wimbledon, the third major of 2021. It is the first time that Shapovalov has reached the third round of Wimbledon and the second time for Auger-Aliassime. The first time Auger-Aliassime reached the third round of Wimbledon was in 2019.
Shapovalov, who is seeded 10th at the All England Club, made the third round of Wimbledon by beating Philipp Kohlschreiber of Germany, 6-4, 4-6, 6-3, 5-7, 6-4. He then beat Pablo Andujar of Spain via a walkover.
Auger-Aliassime, who is seeded 16th, beat Thiago Monteiro of Brazil, 6-3, 6-3, 6-3 in the first round. He then beat Mikael Ymer of Sweden 6-4, 4-6, 7-6, 6-1 in the second round.
Auger-Aliassime and Shapovalov now have tough third round opponents even though they are unseeded. Shapovalov is up against Andy Murray of Great Britain, the 2013 and 2016 Wimbledon champion, while Auger-Aliassime is up against Nick Kyrgios of Australia, the 2014 Wimbledon quarterfinalist and 2015 Australian Open quarterfinalist.
Head-to-head, Auger-Aliassime has beaten Kyrgios once before. It was in the second round of the Queen's Club Championship in 2019, where Auger-Aliassime won 6-7, 7-6, 7-5. This is the first time ever Murray will have played Shapovalov.
It was also a decent Wimbledon for Vasek Pospisil of Vernon, British Columbia. He defeated Roberto Carballes Baena of Spain 6-3, 6-3, 6-3 in the first round, before losing to Frances Tiafoe of the United States in the second round, 6-4, 6-4, 6-4. The win over Carballes Baena was Pospisil's first win at Wimbledon since he reached the quarterfinals in 2015.