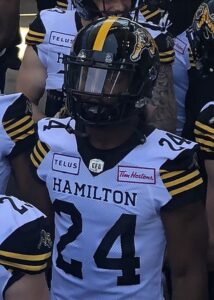 According to TSN on Wednesday, Hamilton Tiger-Cats defensive back Delvin Breaux Sr. of New Orleans, Louisiana has retired from the Canadian Football League at age 31. Breaux Sr. had spent four seasons with the Tiger-Cats (2013, 2014, 2018, and 2019), along with three seasons with the New Orleans Saints of the National Football League from 2015 to 2017.
With the Tiger-Cats, Breaux Sr. was a two-time all-star. The first time in 2014, and the second time in 2018. In 2014, he had 33 defensive tackles, three forced fumbles, and one interception for a touchdown. Then in 2018, Breaux Sr. had 24 defensive tackles, two forced fumbles, and one touchdown. In Breaux Sr.'s final CFL season of 2019, he had 26 defensive tackles, one interception, and one forced fumble.
Breaux Sr. played in 49 CFL regular season games overall and had 110 defensive tackles, one special teams tackle, two interceptions, six forced fumbles, and two touchdowns. Breaux Sr.'s first career touchdown came in a 34-25 Tiger-Cats win over the Ottawa Redblacks on Halloween, 2014. It came on a 27-yard interception return for a touchdown, and was one of two pick-sixes for the Tiger-Cats in the game, as Brandon Stewart of Seattle, Washington had a 30-yard interception return for a touchdown as well.
In the NFL, Breaux Sr. played 22 games with the Saints in 2015 and 2016. In that time he had 64 tackles (53 solo tackles and 11 assisted tackles), 20 passes deflected, and three interceptions for 22 yards. However, Breaux Sr. broke his leg during the 2016 season, and again prior to the 2017 NFL season. The injuries factored into Breaux Sr.'s return to the CFL in 2018, when at the time, he became the highest-paid defensive back in the CFL, as he was making approximately $200,000.