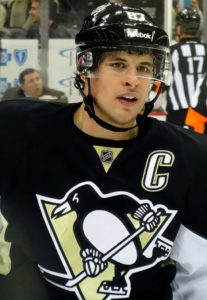 Canadian Olympic gold medalist Sidney Crosby of Cole Harbour, Nova Scotia is off to an excellent start in the 2018 Stanley Cup Playoffs. Crosby was dominant on Wednesday, on the opening night of the playoffs, as he recorded a hat trick in a 7-0 win over the Philadelphia Flyers.
Crosby scored his first goal at 9:01 of the second period from Brian Dumoulin and Jake Guentzel that put the Penguins up 5-0 at the time. Then in the third period, Crosby scored twice on Flyers backup goaltender Petr Mrazek. Crosby's second goal of the game came at 7:41 of the third period from Guentzel and Justin Schultz to put the Penguins up 6-0 and his third goal came at 10:42 from Dumoulin to put the Penguins up 7-0.
It was Crosby's third career playoff hat trick. His first came in a 4-3 loss to the Washington Capitals on May 4, 2009. His second career playoff hat trick came in a 4-3 win over the Ottawa Senators on May 17, 2013.
Crosby led the Penguins in assists this season with 60 and was third on the Penguins in points with 89. Evgeni Malkin led the Penguins with 42 goals and 98 points and former Toronto Maple Leafs right winger Phil Kessel was second on the Penguins with 92 points. Crosby is going for his third consecutive Stanley Cup title and fourth in his career. Crosby won a gold medal for Canada at the 2010 Olympic Winter Games in Vancouver and the 2014 Olympic Winter Games in Sochi.