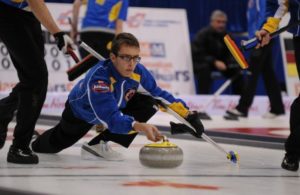 Laura Crocker of Edmonton, Alberta and Geoff Walker of Beaverlodge, Alberta are tied for first place in Pool B with Dana Ferguson and Brendan Bottcher of Edmonton, Alberta at 6-0 after the second day of the 2018 Canadian Olympic Mixed Doubles Curling Trials in Portage La Prairie, Manitoba. 
On Wednesday, Crocker and Walker beat Nicole Westlund-Stewart of Thunder Bay, Ontario and Tyler Stewart of Timmins, Ontario 10-4 after getting four points in the sixth end. They also beat Chelsea Carey of Calgary, Alberta and Colin Hodgson of West St. Paul, Manitoba 9-5 and Canadian Olympic gold medalists Kaitlyn Lawes of Winnipeg, Manitoba and John Morris of Kelowna, British Columbia 11-10 in a dramatic Wednesday night contest. Crocker and Walker were down 10-7 heading into the eighth end when they scored four points for the come from behind win.
Bottcher and Ferguson meanwhile beat Carey and Hodgson 6-5, Marliese Kasner of Prince Albert, Saskatchewan and Dustin Kalthoff of Saskatoon, Saskatchewan 8-1 and Westlund-Stewart and Stewart 6-3.
There is one other undefeated team at 5-0. Jocelyn Peterman of Red Deer, Alberta and Brett Gallant of Charlottetown, Prince Edward Island are unbeaten and lead Pool A after beating Shannon Birchard and Jason Gunnlaugson of Winnipeg, Manitoba 7-6 and Nancy Martin and Catlin Schneider of Regina, Saskatchewan 10-2. The winner of the 2018 Canadian Olympic Mixed Doubles Curling Championship will represent Canada at the 2018 Olympic Winter Games in Pyeongchang.