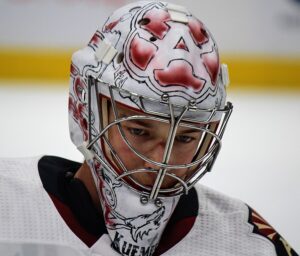 The Arizona Coyotes have traded Darcy Kuemper of Saskatoon, Saskatchewan to the Colorado Avalanche for a first round draft pick in the 2022 National Hockey League Entry Draft, a conditional third round draft pick in the 2024 National Hockey League Entry Draft, and defenseman Connor Timmins of St. Catharines, Ontario. The Avalanche will be Kuemper's fourth NHL team. In addition to the Coyotes, Kuemper has played for the Minnesota Wild and Los Angeles Kings.
Last season with Arizona, Kuemper had a record of 10 wins, 11 regulation losses and three losses in extra time. He also had a goals against average of 2.56, a save percentage of .907, and two shutouts. The Avalanche were in desperate need of a goaltender because Philipp Grubauer surprised the hockey world by signing a blockbuster deal with the Seattle Kraken.
Seven other Canadian NHL goaltenders have made headlines over the last few days. Canadian Olympic gold medalist Marc-Andre Fleury has been traded from the Vegas Golden Knights to the Chicago Blackhawks, but there is a belief that Fleury may retire rather than continue his NHL career. Meanwhile, six other Canadian goaltenders changed teams in free agency. Laurent Brossoit of Port Alberni, British Columbia went from the Winnipeg Jets to the Vegas Golden Knights, James Reimer of Morweena, Manitoba went from the Carolina Hurricanes to the San Jose Sharks, Martin Jones of Vancouver, British Columbia went from the San Jose Sharks to the Philadelphia Flyers, Braden Holtby of Lloydminster, Saskatchewan went from the Vancouver Canucks to the Dallas Stars, Brian Elliott of Newmarket, Ontario went from the Philadelphia Flyers to the Tampa Bay Lightning, and Jonathan Bernier of Laval, Quebec went from the Carolina Hurricanes to the New Jersey Devils.