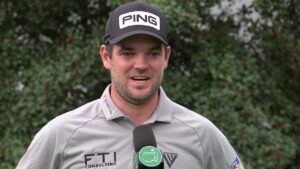 Corey Conners of Listowel, Ontario won the 2023 Valero Texas Open in San Antonio, Texas on Sunday. He shot a four-round score of -15 for his second PGA title. Ironically, the first came at the 2019 Valero Texas Open.
Conners's score of -15 was one stroke better than American Sam Stevens, who finished at -14. Two other Americans, Matt Kuchar and Sam Ryder, were tied for third place at -13. Kuchar and Ryder are both from Winter Park, Florida. Last time I checked, there is a lot more winter in Canada than there is in Florida.
In the final round on Sunday, Conners had four birdies. He birdied the second, sixth, ninth and 15th holes.
Conners came from behind to take the title. Heading into the fourth round, Conners was one stroke back of American Patrick Rodgers. On Sunday, Rodgers struggled as he went one-over-par and dropped down from -12 to -11.
When Conners won the 2019 Valero Texas Open, he defeated American Charley Hoffman by two strokes. Conners had a four-round score of -20.
Next up for Conners is the Masters which starts on Thursday. He is one of four Canadians competing. Conners will be joined by Adam Svensson of Surrey, British Columbia, Mike Weir of Sarnia, Ontario, and Mackenzie Hughes of Hamilton, Ontario. That is tied for the most Canadians competing at a single Masters. In 1965, the four Canadians at the Masters were Stan Leonard of Vancouver, British Columbia, George Knudson and Nick Weslock of Winnipeg, Manitoba, and Gary Cowan of Kitchener, Ontario. In 2020, the four Canadians were Nick Taylor of Winnipeg, Weir, Adam Hadwin of Moose Jaw, Saskatchewan and Conners.