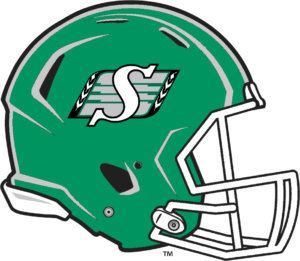 The Canadian Football League is down to four teams in the 2021 postseason. On Sunday, the Saskatchewan Roughriders beat the Calgary Stampeders 33-30 in overtime in the Western Division semifinal, while the Hamilton Tiger-Cats beat the Montreal Alouettes 23-12 in the Eastern Division semifinal.
In the Roughriders win over the Stampeders at Mosaic Stadium in Regina, Saskatchewan won despite four interceptions by Roughriders quarterback Cody Fajardo. The lone touchdown pass by Fajardo went to a Canadian, as Kian Schaffer-Baker of Guelph, Ontario had a six-yard touchdown catch 59 seconds into the third quarter to give Saskatchewan a 17-8 lead at the time. Meanwhile, Roughriders kicker Brett Lauther of Truro, Nova Scotia made four field goals, including two in overtime. The game-winning kick in the extra period was from 34 yards. Saskatchewan will now play the Winnipeg Blue Bombers in the West Final on December 5.
In the Tiger-Cats win over the Alouettes, Michael Domagala of St. Catharines, Ontario notched three field goals at Tim Hortons Field in Hamilton. Hamilton will now play the Toronto Argonauts next Sunday at the Bank of Montreal Field in Toronto in the East Final. This will be the first time since 2015 that the Argonauts will have played the Tiger-Cats in the playoffs, and the first time since 2013 that the Argonauts are playing the Tiger-Cats in the East Final.