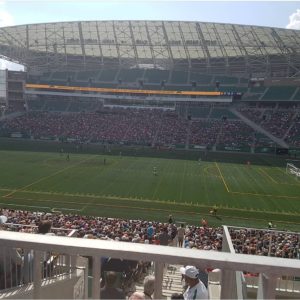 The Canadian Football League announced on Thursday the host cities for the 2020 and 2021 Grey Cup. After the 2019 Grey Cup will be played at McMahon Stadium in Calgary, Alberta, the 2020 Grey Cup will be played at Mosaic Stadium in Regina, Saskatchewan and the 2021 Grey Cup will be played at Tim Hortons Field in Hamilton, Ontario. 
This will be the second major sporting event that will take place at Mosaic Stadium over the next couple of years. On October 26, 2019, the Calgary Flames and Winnipeg Jets will play the 2019 National Hockey League Heritage Classic at the stadium.
This will be the third time the Grey Cup will be in Regina. The first two times were in 1995 and 2013. The 1995 Grey Cup was memorable because it was won by the Baltimore Stallions by a score of 37-20 over the Calgary Stampeders. It was the only time ever that an American-based team won the Grey Cup. In 2013, the Roughriders beat the Hamilton Tiger-Cats 45-23. This would be the last time that a Canadian Football League team won the Grey Cup on their home field.
The Tiger-Cats have hosted the Grey Cup 10 times. The years they have hosted were 1910, 1912, 1913, 1928, 1929, 1932, 1935, 1944, 1972 and 1996. Of the 10 Grey Cups Hamilton has hosted, Hamilton-based teams have won six times. The Hamilton Alerts won in 1912, the Hamilton Tigers won in 1915, 1928, 1929, and 1932, and the Tiger-Cats won in 1972.