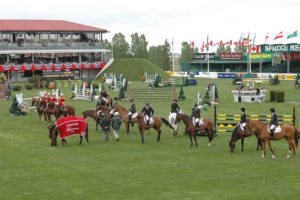 Lisa Carlsen of Toronto, Ontario finished second at the 2018 Royal Bank of Canada Grand Prix on Saturday from Spruce Meadows, Alberta. Carlsen was one of three equestrian riders in the jumpoff as she was joined by Kent Farrington of the United States and Karen Polle of Japan.
Carlsen, Farrington and Polle were the only three riders to have a clear round in the first round of the competition. A total of 34 riders were entered but only three qualified for the jumpoff.
In the jumpoff, Carlsen and Farrington once again had a clear round, while Polle had four faults. Farrington was the winner as he had a time of 49.94 seconds on his horse Gazelle, a Belgian Warmblood. Carlsen had to settle for second place as she had a time of 54.72 seconds on her horse Parette, a Brandenburg. Both Gazelle and Parette were 12 year old mares.
The RBC Grand Prix is the first of three significant events that happen annually at Spruce Meadows every year. It is followed by the ATCO Queen Elizabeth II Cup on July 7 and the CP International Grand Prix on September 9.
The second place finish for Carlsen should give her some confidence as she hopes to make the Canadian National Team in the coming years. The 2018 FEI World Equestrian Games takes place in Tryon, North Carolina this September and the Olympic Games are in Tokyo in two years from now.