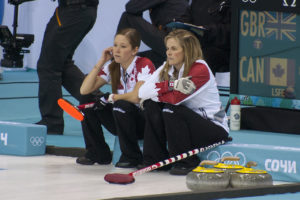 There is no doubt that Canadian curling fans were in a state of shock when Rachel Homan had a losing record of four wins and five losses and failed to make the playoffs at the 2018 Olympic Winter Games in Pyeongchang. It would make complete sense that Winnipeg's Jennifer Jones might have looked at Homan's results and felt a little uncertain about Canadian continued excellence in women's curling heading into the 2018 Women's World Curling Championships. 
However this past week, Jones's team has embraced the pressure and put Canada back on top in a sport they have dominated in the last 40 years. This week at the North Bay Memorial Gardens in Ontario, Team Canada has clinched a playoff spot heading into the final day of the round robin with a perfect record of 10 wins and zero losses.
On Wednesday, Jones delivered major statements. She not only beat the Olympic gold medalist in Sweden's Anna Hasselborg 8-4, but the Olympic silver medalist in Kim Eun-jung 8-4 as well. Then on Thursday, Team Canada was tested significantly by Russia and Jones needed a game winning 10th end draw to win 8-7, and then trounced Italy 14-6. In the game, Team Canada had a multiple end score in five of the eight ends.
On Friday, Canada closes out the round robin with games against Japan and the United States. With South Korea in third place and at three losses, Canada has already guaranteed themselves a bye to the semi-finals.