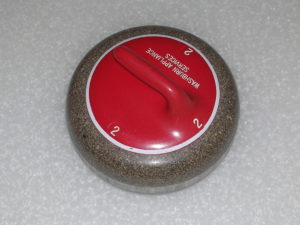 Canadian curlers came away with two gold medals on Sunday at the 2019 Curling World Cup in Jonkoping, Sweden. Kadriana Sahaidak of Winnipeg, Manitoba and Colton Lott of Winnipeg, Manitoba teamed up to win the mixed doubles competition, while Matt Dunstone of Winnipeg, Manitoba skipped his Saskatchewan-based team to a men's title.
In mixed doubles, Sahaidak and Lott won the Group A round robin standings with 13 points. They posted a record of four wins, one loss and one shootout loss. They defeated Hye-ri Jang and Chi-Won Choe twice by scores of 7-2 and 7-5, Olympic silver medalists Jenny Perret and Martin Rios of Switzerland 8-7 and Camilla and Per Noreen of Sweden 10-6. By finishing in first place, Sahaidak and Lott got an automatic berth to the final where they beat Kristin Skaslien and the legendary Thomas Ulsrud of Norway 7-5.
In men's play, Dunstone's rink went through Group B with a first place record of five wins and one shootout loss. They beat Steffen Walstad of Norway and Xiuyue Ma of China each twice and Ross Patterson of Scotland once. In the final, they upset Niklas Edin of Sweden 5-4.
Edin and Ulsrud are two of the best skips in Europe. Edin is a three-time world champion, and two-time Olympic medalist. Ulsrud won the 2014 World Men's Curling Championship and the silver medal at the 2010 Olympic Winter Games in Vancouver. 
This was the third of four World Cup events this year. Sahaidak and Lott were the second Canadian mixed doubles team to win the event, following Laura Walker of Edmonton, Alberta and Kirk Muyres of Saskatoon, Saskatchewan, who won a World Cup this past September in Suzhou, China. Dunstone was the second Canadian men's team to win in 2018-19 as Kevin Koe of Calgary, Alberta also won a World Cup in Suzhou, China. The other Canadian team to have a World Cup title under their belt this season was Rachel Homan of Ottawa, Ontario in women's action as they won in Suzhou in September.