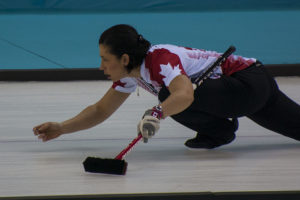 For the second straight year Canada has won the gold medal at the World Women's Curling Championship.On Sunday in North Bay, Ontario, the Canadian team of skip Jennifer Jones, third Kaitlyn Lawes, second Jill Officer and lead Dawn McEwen of Winnipeg, Manitoba led Canada to a victory in the gold medal game over the Olympic champion from Sweden in 11 ends by a score of 7-6.
For Officer, the world championship had significant meaning as she is planning to take a step back from curling at the end of the 2017-18 season. There is a possibility that Officer could continue to do mixed doubles and participate as a fifth for Jones in high profile events in the future.
In the gold medal game, both Jones and Swedish skip Anna Hasselborg missed each of their final shots. Jones's stone did not reach the hog line on an attempted draw, while Hasselborg flashed in an attempt to steal a point.
The reason why the tournament was record breaking was the attendance in North Bay. The northern Ontario city broke an attendance record at a World Women's Curling Championship held in Canada (69, 391). Beijing set the overall record at the 2017 World Women's Curling Championship with an attendance exceeding 90,000 according to Curling Canada.
It was also the second straight year that Team Canada went undefeated. In 2017, Rachel Homan of Ottawa, Ontario was a perfect 13-0 in winning the Women's World Curling Championship in Beijing. With one extra team in 2018 from Asia, Jones went 14-0 this year.