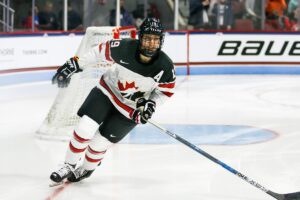 Team Canada has won its first game of the 2021 Women's World Hockey Championship in Calgary, Alberta. On Friday, Canada defeated Finland 5-3 from the Markin MacPhail Centre at Canada Olympic Park.
Four Canadians had multi-point games. Canadian Olympic gold medalist Brianne Jenner of Oakville, Ontario. and Erin Ambrose of Keswick, Ontario each had one goal and one assist for two points. Meanwhile, Canadian Olympic gold medalist Natalie Spooner of Scarborough, Ontario and Claire Thompson of Toronto, Ontario each had two assists. The other three Canadian goal scorers were Sarah Fillier of Georgetown, Ontario, Canadian Olympic gold medalist Marie-Philip Poulin of Beauceville, Quebec, and Jamie Lee Rattray of Kanata, Ontario. Poulin won the gold medal for Canada at the 2010 Olympic Winter Games in Vancouver, while Poulin, Spooner and Jenner won the gold medal for Canada at the 2014 Olympic Winter Games in Sochi.
The Canadian team got off to a sluggish start as undisciplined play led to two Team Finland goals. The second period was Canadian domination. Canada outshot Finland 25-2, with Poulin recording six shots.
The 2021 World Women's Hockey Championship were to take place in Halifax in April. However, the Nova Scotia government shockingly cancelled the competition because of public health concerns related to coronavirus.