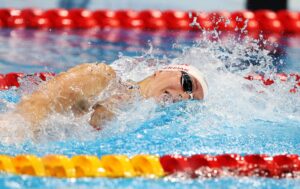 Team Canada has won their first medal at the 2020 Olympic Games in Tokyo in 2021. On Sunday in Japan, and Saturday evening in Canada, the Canadian team comprised of swimmers Penny Oleksiak of Toronto, Ontario, Kayla Sanchez of Scarborough, Ontario, Rebecca Smith of Red Deer, Alberta, and Taylor Ruck of Kelowna, British Columbia won the silver medal in the women's 4×100 metre freestyle swimming relay.
The Canadian team posted a time of 3:32.78. Australia won the gold medal with a time of 3:29.69 in world record time, while the United States won the bronze medal with a time of 3:32.81. Australia also had the previous world record. They had a time of 3:30.05 at the 2018 Commonwealth Games in Gold Coast, Australia.
Canada earned a medal by 0.92 seconds. The Netherlands finished in fourth place with a time of 3:33.70. Interestingly, in the heats, the Netherlands had the second fastest time at 3:33.51, while Canada's time was the third fastest, at 3:33.72.
For Oleksiak, this was her fifth career Olympic medal. She previously won four medals at the 2016 Olympic Games in Rio de Janeiro, They came in the women's 100 metre freestyle (gold), women's 100 metre butterfly (silver), women's 4×100 metre freestyle relay (bronze), and women's 4×200 metre freestyle relay (bronze). Ruck also won Olympic bronze medals in the relay competitions in Rio.
Oleksiak now has tied the record for most medals won by a Canadian at a Summer Olympic Games. Phil Edwards of Montreal, Quebec won five bronze medals in athletics from 1928 to 1936. Meanwhile, rower Lesley Thompson-Willie of London, Ontario won five medals from 1984 to 2012.