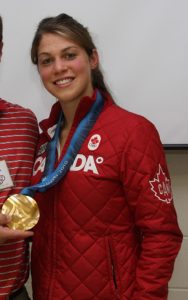 Team Canada has won the bronze medal in women's hockey at the 2019 Women's World Hockey Championship in Espoo, Finland.In the bronze medal game on Sunday, Canada trounced Russia 7-0.
Seven Canadians recorded two points in the Canadian victory. Loren Gabel of Kitchener, Ontario scored twice. Erin Ambrose of Newmarket, Ontario, Jamie Lee Rattray of Ottawa, Ontario, and Canadian Olympic gold medalists Rebecca Johnston of Sudbury, Ontario and Natalie Spooner of Scarborough, Ontario each had one goal and one assist for two points. The other Canadian players who had a multi-point game were both from Hamilton as Sarah Nurse and Renata Fast each had two assists. The other Canadian goal scorer was Jamie Bourbonnais of Mississauga, Ontario. Meanwhile, Canadian Olympic gold medalist Genevieve Lacasse of Montreal, Quebec made six saves for the shutout.
Team Canada was forced to play the bronze medal game after being defeated 4-2 by Finland in the semifinal. On Sunday, Finland and the United States played in the first ever Women's World Hockey Championship gold medal game that did not include Canada. The United States came away with a 2-1 shootout win.
Johnston won a gold medal for Canada at the 2010 Olympic Winter Games in Vancouver. Johnston, Spooner and Lacasse then won a gold medal for Canada at the 2014 Olympic Winter Games in Sochi. The bronze medal for Canada is a stepping stone in their quest for gold at the 2022 Olympic Winter Games in Beijing.