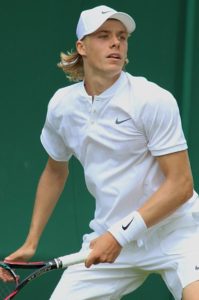 Team Canada came away with a decisive victory on the opening day of the 2020 ATP Cup from Brisbane, Australia. On Friday, Canada brat Greece in all three of their Group F matches to move into first place in their group.
The Canadian performance was simply perfect. Felix Auger-Aliassime of Montreal, Quebec and Denis Shapovalov of Toronto, Ontario won both of their singles matches and then teamed up to win in doubles. Auger-Aliassime beat Michail Pervolarakis 6-1, 6-3 and Shapovalov beat the sixth ranked player in the world and the 2019 Australian Open semifinalist Stefanos Tsitsipas 7-6, 7-6. Shapovalov beat Tsitsipas 8-6 in the first set tiebreak and then 7-4 in the second set tiebreak.
Then in doubles action, Shapovalov and Auger-Aliassime had no trouble beating Pervolarakis and Petros Tsitsipas 6-2, 6-3. Petros Tsitsipas is the younger brother of Stefanos Tsitsipas.
The fact that Shapovalov and Auger-Aliassime did not spend too much time on the court will be a huge help to them when they face the talented Australian group of Nick Kyrgios and Alex de Minaur on the Australian home court on Saturday. Auger-Aliassime only needed one hour and nine minutes to win his match, while Shapovalov was on the court for two hours and three minutes. Shapovalov and Auger-Aliassime were also on the court for only one hour and seven minutes in their doubles matchup.